Jack William Nicklaus (born January 21, 1940), nicknamed The Golden Bear, is an American retired professional golfer and golf course designer.
Jack Nicklaus has won 18 Majors.
Best results in major championships
(wins: 18)
Masters Tournament
Won: 1963, 1965, 1966, 1972, 1975, 1986
PGA Championship
Won: 1963, 1971, 1973, 1975, 1980
U.S. Open
Won: 1962, 1967, 1972, 1980
The Open Championship
Won: 1966, 1970, 1978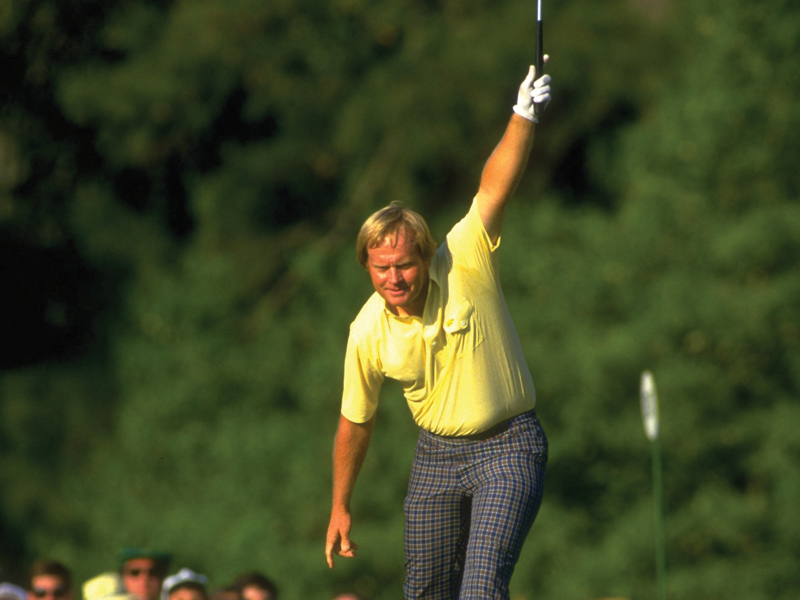 Other facts:
Born in Columbus, Ohio in 1940, Nicklaus possessed obvious athletic ability from an early age. He could have played basketball at the collegiate level, and he began golfing was he was as young as 10. For all the preternatural gifts he may have had, however, he didn't initially envision a life as an athlete for himself. His parents were pharmacists, operating a chain of drugstores, and his plan was to enter the family business. When he enrolled at Ohio State in 1957, he entered the pre-pharmacy program with the intention of doing just that. Obviously, things didn't quite work out as planned.
He took up golf at age 10, and shot 51 for the first nine holes he ever played.
He first broke 70 at age 13.
He's the first living person to appear on the five pound note that was not a member of the British royal family.
He's also a little superstitious. He's a strong believer in the number three, so he'll only golf when he has three coins in his pocket. While the denomination of the coins doesn't matter, the three coins have very, very obviously worked for him.
From 1970 to 1979, Nicklaus' worst finish at the Masters was eighth.
In 44 majors from 1970-1980, Nicklaus missed ONE cut. In that span he finished inside the top 10 38 times, and 30 of those were in the top five. He won 10 of those times.
In 1998, at age 58, Nicklaus shot the lowest final round (68) for a senior in Masters history. He finished T-6, also setting the record for lowest total score for a senior.